Ah, the blog carnival. A venerable institution in web terms. And a zombie, if you want the truth. Some time ago I instituted a new policy: I will only accept submissions from a blog that was not written by the submitter. This has been massively successful, as it has allowed me to do whatever I want. Yay! Here is a smattering of worthy satire I collected in the last six weeks, month, hour and a half.
One of my favourite authors is Christopher Moore, and he's bloogin' now, like a champion. He's been hanging out in Paris of late (no doubt researching his next book, something about hunchbacks and slutty women, I'm sure), and writing excellent (satiric) posts like this one, Making Fun of Sculpture.
Speaking of promiscuous activities, did you know about the going rate for Facebook friends? Mad Kane has the definitive limerick.
More excellent writing can be found a Name Your Tale, a site dedicated to the 100-word story, such as this, Plato's Last Cigarette, written by Jeremy S. Griffin who also provides this low-fi, f-bomb-laden Hawkingesque YouTube video that includes the line: "Sit on my Facebook and I'll whack you up the Twitter." (May be NSFW, or 'not safe for work'):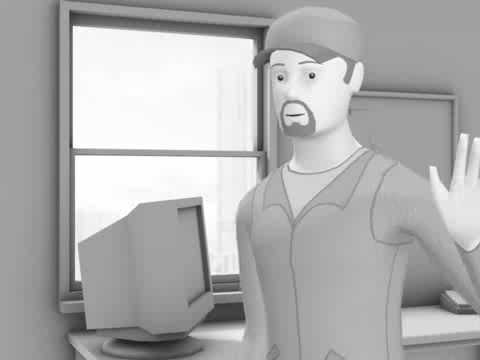 Fengtastic gives me hope for the future:
(Not to be confused with NeonBubble, who also gives me hope for both the future, and the past, with such posts as "Vintage Borg".)
Diesel, on the other hand, frightens me. I can see, House, Plumber, actually making it on the airwaves. BTW, you should also buy his novel, Mercury Falls, which is not about a plumber, though it does contain many useful tips and more synonyms for linoleum flooring than you'll ever need.
Now, I'm not sure this is satire, but I think it is. Lobo, sorry, LOBO (must be shouted) of Predator Press, gives us a glimpse into his upbringing in "Did I Eat This?"
In our non-satire slot, we have Banquet Manager and husband #11, plus a cogent argument from Head Wide Open about why men should have beards. Cogent and coherent — a rarity these days.
Right about now, you're probably wondering how one of your satiric pieces could be included in this carnival, if I will not accept self-submissions. Here's how it works: save me some time and find something brilliant that someone else has done, and send me that link. The form will allow you to put your own url in the "remarks" box. Or you could just email me both at skwib(at)markarayner.com. If I like the piece that someone else has written, I guarantee that I will want to know more about you and what you have written. The BlogCarnival form is here. Thanks to Nickel Media for the fast food zombie.